PLASTIC SURGEON'S PERSPECTIVE ON CLASSICAL GUITAR MUSIC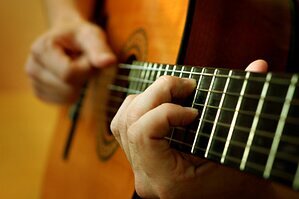 This blog has nothing to do with plastic surgery!  But don't leave!  Read on and perhaps I can open Pandora's Box for your musical taste.
As many of my regular blog readers know, I am a big believer of having diversification in life.  I have written about the benefits of exercise and music in previous blogs.  Today, I want to write about classical guitar music.  My hope is to open your "musical palate" and perhaps get you interested in picking up a musical instrument as a hobby.
I have chosen pieces which I consider important for their respective musical period.  All of these pieces have withstood the test of time, and are among the "top hits" if you will.
For those of you who are "into" classical guitar music, some clarification is in order.  First, I have only chosen pieces which were written for the classical guitar or its predecessors, the lute or other guitar like instruments.  Transcriptions from other instruments have been omitted.  Second, I have limited my selection to pieces which were written prior to 1930.  The reason being the dramatic increase in composition for the guitar since then as well as the inability to evaluate these pieces in the context of time (will these pieces withstand the test of time?) Third, please do not comment on why I chose this performance versus the other! I am fully aware of all performances on You Tube, but due to limitations in space and time, on this day, these are the videos I chose.  I can assure the readers these are top notch performances.
Classical music is serious music!  To fully appreciate these compositions, please do not watch these videos while putting on make-up,  while drinking and eating with friends or playing with your children or pet, etc.  Set some quite time and watch them alone.  If anything, I hope you will at least be mesmerized by the complexity of these pieces and the superb playing of the performers.  As an amateur classical guitar player, I can attest to the technical difficulties of these pieces.
RENAISSANCE
The renaissance was a fruitful era for the lute, and many great pieces were written.
The first piece of I have chosen is Guardame Las Vacas by Luis de Narvaez.  It is one of the first printed examples of theme and variations, which is the essence of renaissance lute music.  As one listens, one can pick up the "theme" followed by the variations on the theme which follows.  This is a fun piece to play!
Fantasia Number 10 by Alonso Mudarra!  To this day, I am still amazed this piece was written some 500 years ago! The piece starts fairly standard for renaissance, and then it suddenly shifts gear and becomes contemporary in sound.  Towards the end, it shows perhaps the best example of counter-point I have ever heard.  Close your eyes and listen! It sounds like two separate instruments playing! The technical difficulty of the piece lies in timing the notes precisely so that illusion becomes reality.
How can I ignore John Dowland while mentioning the Renaissance?  Dowland, an Englishman, was to lute what Shakespeare was to literature.  Even the pop artist Sting recorded an entire album of Dowland's music recently!
Although he composed many superb and well-known pieces, I have chosen his Fantasia, since it is his most complex work. It starts slowly and builds up to an exciting finale.
BAROQUE
Many great pieces were written for the lute during this period.  However, if I had to pick a few, these are the ones I would choose.
When one mentions Baroque, perhaps J.S. Bach is the first name which comes to mind.  Bach owned this era!  I have chosen his magnificent Prelude, Fugue, and Allegro written for the lute.  Bach was a religious man and although he specifically did not address these pieces to honor God, his allegro is truly a religious experience.
Although Bach did not play the lute, he was so inspired by his contemporary Silvius Leopold Weiss, it is said he composed his entire Lute Suite to honor Weiss.  That is some recommendation!  Unfortunately, the music of Weiss suffered neglect for many years, and I still think his music is underrated.  I have chosen his Fant a sia (a fun and exciting piece to play!) and Chaconne here.
CLASSICAL
During the classical era, the classical guitar (a smaller version of today's guitar) gained popularity.  The most famous player, Fernando Sor, was Spanish.  Unfortunately, most of the pieces were written in the standard Viennese style, thus the music lacks ethnicity.
I cannot mention this period and omit Sor.  Sor was the most important figure of this period and his music is standard repertoire even today.  I have chosen his Theme and Variation on Mozart's The Magic Flute to illustrate his mastery of this instrument.
This may be a surprising choice for those of you who are into classical guitar.  The second piece I have chosen is the Rondo by Dionisio Aguado.  Aguado's style was very technical and as a result his compositions lacked the musical charm which made his contemporaries more famous.  However the Rondo is where technique and musicality find each other.  This piece is a fire cracker and a tour de force!  I hope one day I can play this (in my dream???).
ROMANTIC
Francisco Tarrega.  We owe a lot to Tarrega.  Tarrega became blind from an eye infection when he was a child.  Thus his achievements are even more amazing.  Tarrega was responsible for the current version of classical guitar.  As his popularity increased, he required larger concert halls to perform.  As a result he asked guitar builders to make his guitar larger and deeper in body, so that the sound could travel farther.
He is also responsible for one of the finest pieces written for the guitar involving the tremolo technique.  The tremolo involves rapid alteration of the ring, middle, and index finger on the same string, thus giving the illusion of a sustained note.  This is a difficult technique to master.  It amazes me he developed this technique without the gift of sight.
I have chosen his Recuerdos de la Alhambra as it relies entirely on the tremolo.  According to Frederick Noad, "This original composition is a musical memory of the famous Alhambra palace in Granada, a magnificent relic of the splendor and grace of court life during the Moorish occupation of Spain.  The rippling tremolo melody is evocative of the fountain and running water that are to be found everywhere in the palace and its gardens."  This piece may sound familiar to you as a synthesizer version of it was used by the British composer Mike Oldfield in the Oscar winning movie The Killing Fields.
TWENTIETH CENTURY
Many of you may be surprised I have not chose Segovia here.  There is no question Andres Segovia was the "turbo engine" which propelled the classical guitar as a legitimate concert instrument.  He tirelessly transcribed music for the guitar and many composers composed music for the guitar because of him.  However, surprisingly, Segovia was never famous as a composer.  I have not heard many compositions from him, and the one I found on You Tube is average at best (sorry Andres!)
The composer-guitarist I have chosen comes from a country not usually associated with classical guitar:  Paraguay.  Paraguay is a small country in South America.
Agustin Barrios Mangore was a contemporary of Segovia.  It has been said Segovia was very jealous of Mangore and had tried to sabotage his career.  However, even Segovia admitted he liked the piece I have chosen, La Cathedral.  Mangore, like Bach, was a religious man and also admired Bach.  La Cathedral is written in the style of Bach (compare it to the Prelude, Fugue and Allegro chosen earlier).  The first two movements depict the peace and tranquility of being in a church (cathedral), while the last movement, Allegro Solemne, depicts the hustle and noise of the city as one leaves the church.
BONUS PIECES
I have chosen these two pieces to inspire you to pick up the classical guitar.  Given 6-12 months of diligent practice, these pieces should be within the grasp of every one.
The first, Etude in B Minor, is by Fernando Sor.  A relatively simple yet charming piece to play; it allows a lot of room for musical expression.  The key to this piece is to bring out the melody.  Take this piece seriously!  The great Julian Bream has played it as an encore piece during his concerts.
The second piece is very famous.  You have heard different versions of it somewhere.  It is called Romance (or Spanish Romance) and it is composed by……….Anonymous!  I bet the person who wrote this piece is turning in their grave as to why they didn't put their name on the original composition.  Frederick Noad, in his excellent book Solo Guitar Playing 1, accurately states "From its sound this is always supposed to be a fairly easy piece.  In fact it needs considerable practice, but this will result in a strengthening and general improvement of the left hand."
Michael A. Jazayeri, M.D. is a board certified plastic surgeon with over 10 years of experience.  His office is located in Orange County, California.  To schedule a complimentary consultation, please call (714) 834-0101.