CAN LIPOSUCTION BE PERFORMED UNDER LOCAL ANESTHESIA (WITHOUT GENERAL ANESTHESIA)?
Liposuction Under Local Anesthesia vs. General Anesthesia?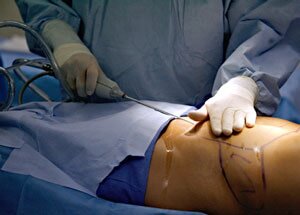 Liposuction is one of the most common cosmetic procedures performed in the United States.  Liposuction removes excess fat under the skin and if the patient has normal skin tone, the skin usually retracts resulting in a smoother, flatter body part.  Most common areas of liposuction are the neck, arms, male and female breast, abdomen, love handles, upper and lower back, inner/outer thighs and inner knees.  Although general anesthesia is very safe, if a procedure can be done under local anesthesia, the safety margin increases even more.  Furthermore, since there are no surgery center/anesthesia fees, the total cost is less to the patient.
If a patient has moderate to high pain threshold, liposuction can be performed under local anesthesia with only oral medication.  Having performed hundreds of liposuction procedures under local, only 3 patients have not been able to tolerate this method.
If you are contemplating liposuction, having the procedure performed under local anesthesia is a safe and proven method.  Please take a moment to watch the below video.
Michael A. Jazayeri, M.D. is a board certified plastic surgeon with over 10 years of experience.  His office is located in  Orange County, California.  To schedule a complimentary consultation, please call (714) 834-0101.