Do Your Ears Hang Low?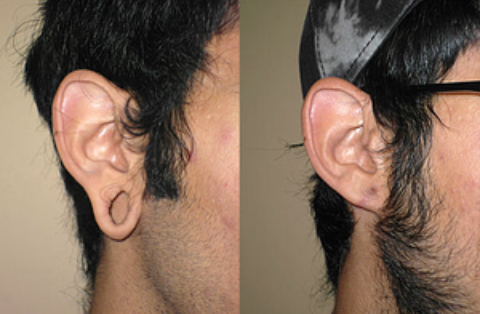 "Do your ears hang low? Do they wobble to and fro?" These clever old song lyrics tell of the sad plight of a person with large, droopy, protruding ears, whose earlobes are so saggy that one could tie them in a knot or bow. If your earlobes are similarly enlarged, sagging, or torn, earlobe repair surgery can restore them to a more natural and modest appearance.
Reasons for Needing Earlobe Repair
Earlobe repair can give you natural-looking earlobes once again by fixing deformities such as:
Genetically large, saggy earlobes
Overstretched, drooping earlobes due to wearing heavy earrings on a regular basis
Holes left by heavy earrings, gauges, or plugs
Tears or splits caused by trauma, such as an earring being ripped out
Damage to one or both earlobes
Damaged and overstretched earlobes can affect not only your perception of yourself but how others perceive you. Their appearance could potentially affect social or work opportunities, as was the case with Sam McCorkell from Buckinghamshire. A news story about McCorkell reported that "a decade of job rejections and disparaging comments" told him he needed to reject his "rockstar image" and get his earlobes repaired. Fortunately, nearly anyone who has torn, damaged, saggy, or stretched earlobes can receive earlobe repair to correct their earlobe deformity.
The Earlobe Repair Process
Earlobe repair surgery is conducted in the office by Dr. Jazayeri himself. This procedure is usually very short—only 30 to 60 minutes—and can completely restore the appearance of the earlobes. Dr. Jazayeri carefully numbs the tissues and repairs them, using very fine sutures if the earlobe is torn. In the case of overstretched, saggy earlobes, Dr. Jazayeri removes a wedge resection and reconstructs natural-looking earlobes. Patients will be able to see their results in just two weeks, and they can even pierce their ears again once the lobes have healed after six to eight weeks.
If your ears "hang low" or "wobble to and fro," earlobe repair can help you. Saggy, stretched, enlarged, or torn earlobes can all be repaired through this simple in-office procedure performed by Dr. Jazayeri. Earlobe repair will be able to restore natural-looking earlobes that look balanced and proportionate with the rest of your face.
To learn more about earlobe repair, schedule your consultation with Board-Certified Plastic Surgeon Dr. Michael Jazayeri. Call (714) 834-0101 or complete our online contact form to book your appointment with Dr. Jazayeri today.