Ethnic Rhinoplasty
RHINOPLASTY CASE REPORT: WHEN MORE IS BETTER
Rhinoplasty (nose surgery) is one of the most common cosmetic procedures performed.  In most cases, rhinoplasty is about balanced removal of anatomy with small additions to the nasal tip, and narrowing the nasal bones.
In some patients, however, only addition or augmenting the anatomy is the key to a better defined nose. These subset of patients are typically African American, or of Asian-Pacific origin (Vietnamese, Chinese, Japanese, Filipino, etc.). The patient typically has a flat nose with lack of projection of the dorsum or the tip.  Therefore, augmenting both areas in a balanced fashion is the goal.
In the patient presented below, she also had a small, flat chin and a chin augmentation was also performed.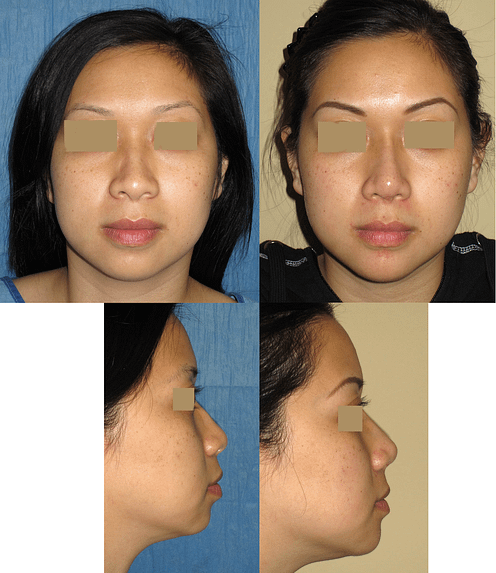 As one can see, the result is subtle yet dramatic at the same time.  The key is to obtain a natural result without an "over-operated" look.
Michael A. Jazayeri, M.D. is a board certified plastic surgeon with over 12 years of experience.  His office is located in Orange County, California.  To schedule a complimentary consultation, please call (714) 834-0101.