Fat Transfer Breast Augmentation
Breast augmentation has consistently been one of the most popular cosmetic procedures in the United States, and is always ranked number one or two in terms of popularity.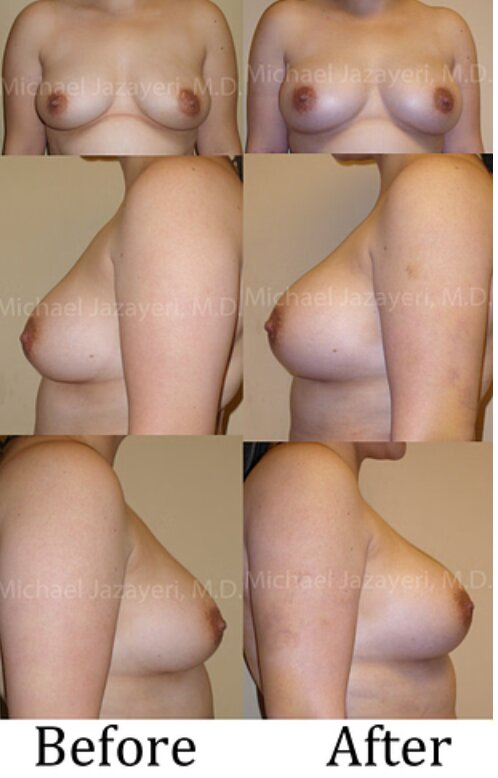 Actual Patient
Breast augmentation, however, is not always desired by some patients because of cost, fear of having a foreign material in their body, and the need to have additional surgeries if the implant should deflate or rupture.
In patients who do not require a breast lift and only desire one to one and a half cup increase in breast size, fat transfer to the breast also known as "natural breast augmentation" is certainly an option.
The fat can be harvested from any part of the body. The most common areas are the abdomen, love handles, inner and outer thighs. Less common areas are the neck, arms, and back. For most patients, 300-400cc (10-13 ounces) of fat is required for each breast.
The fat is then transferred into the breast area using specialized cannula. One advantage of this procedure is the ability to place different amounts of fat in each area. In a way, it is a customized filling of the breast. This is not possible with an implant.
This procedure is typically performed without the use of general anesthesia, which results in improved safety, less cost, and faster recovery.
One concern about fat transfer to the breast is the possibility of fat necrosis resulting in calcifications in the breast. Several studies have shown that the calcification from fat necrosis can be differentiated from cancerous lesions. However, in patients with dense breast tissue, history of breast cancer, history of breast cancer in mother or sister, fat transfer may necessitate the need for additional procedures, such as an MRI, which may or may not be covered by the patient's insurance.
Michael A. Jazayeri, M.D. is a board certified plastic surgeon with over 16 years of experience. His office is located in Orange County, California. To schedule a complimentary consultation, please call (714) 834-0101.