How To Get Bigger Lips NATURAL LOOKING POUTY LIPS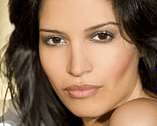 Non-surgical cosmetic procedures are very popular, and the number of procedures increases every year.
The use of fillers to create pouty lips is one of the most requested procedures. Unfortunately, most practitioners do not understand the limitations of fillers, leading to unnatural looking lips.
Most patients want to have "Angelina Jolie" lips, which is understandable…she does have full, sexy lips! However, if one carefully analyzes Jolie's lips, one realizes she has a large amount of red…in other words; the red part of her lips has a large surface area.
If one tries to do the same with fillers in someone who has thin lips (the red part of the lip has a small surface area), one will inject large amount of filler into the lips with minimal effect, other than creating a "fish mouth" or a "duck bill" look. I personally do not find this attractive, but some patients and practitioners do. To create more red, a surgical procedure is often required to borrow lip tissue from inside the mouth and then filling the newly created lip with fillers.
Below are two before and after photos of patients who had fillers in their lips. The first patient had only to the upper lip enhanced. The second patient had augmentation of both upper and lower lip. Very small amount of fillers were used to enhance but not over-do the lips. The result is subtle yet noticeable.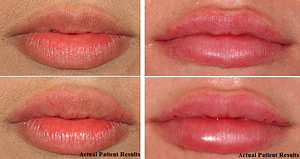 Michael A. Jazayeri, M.D. is a board certified plastic surgeon with over 12 years of experience. His office is located in Orange County, California. To schedule a complimentary consultation, please call (714) 834-0101.