I HUGGED BACH!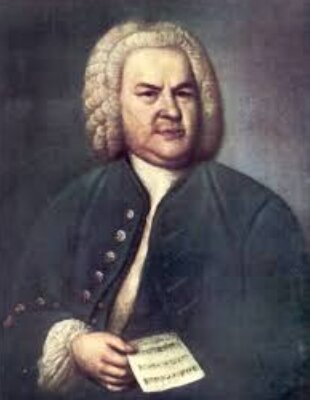 My oldest daughter is now old enough to appreciate music.  We try to expose her to a wide range of music.  At home she watches a wide range of videos on You tube (from Pit Bull to traditional Persian music).  However, when she is in my car, I like to expose her to classical music.
My favorite classical composer is J.S. Bach.  I have his English and French suites for piano and his lute works transcribed for the guitar, as well as other pieces transcribed for the guitar stored on my car's hard drive.
I also have his Goldberg Variations transcribed for the guitar by an amazing guitarist named Kurt Rodarmer.  For some of the variations, two to four guitars were used and he plays all of the instruments (dubbed obviously).  He also had special guitars made for him to allow him to play the range of music necessary which is not obtainable on a traditional guitar.  It is truly a masterpiece.  This recording, completed in 1998, is still available for purchase!
So far, my daughter has listened to any Bach piece I have played.  Every time I ask her if she likes the music she says yes (believe me, if she doesn't like something, she will let you know!).
I really like the Goldberg 31th variation, so as I was driving her to day care, I played the track.  I then asked her if she liked the music.  Her response was yes.  Well, I said, this is also music by Bach.  She then said with enthusiasm:  "I hugged Bach!"
I am pretty sure she was trying to say I want to hug Bach, but she is only 26 months old, so her grammar is not always correct.  Regardless, I decided to play along.
"You hugged Bach???!!!"
"Yes!"  She replied
I smiled and said:  "You are so lucky.  I wish I could hug Bach."  I then suddenly fantasized I was meeting Bach and I gave him a huge, long hug.
Unfortunately, by then I had arrived at my destination and my fantasy had to end.  Bummer!
Michael A. Jazayeri, M.D. is a board certified plastic surgeon with over 13 years of experience.  His office is located in Orange County, California.  To schedule a complimentary consultation, please call (714) 834-0101.