IN CASE OF A LEAK, DO NOT PANIC!
Breast Implant Leak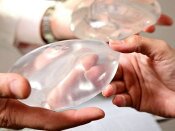 I occasionally receive frantic phone calls from patients, usually after hours, where the patient is in stress because she feels her breast implant has deflated.
Stay calm!  An implant leak, whether saline or silicone, is not dangerous to your health.  In case of a saline implant deflation, the body will absorb the saline (which is the same fluid which is placed in your IV when one goes to the hospital).  For silicone implants, the silicone may leak (the newer silicone implants have cohesive gel and the leakage rate is much less than before) and will stay around the implant.  Silicone is ubiquitous in nature.  In fact, if we randomly biopsy a piece of our tissue, we will all test positive for silicone.
The timing of the implant change is really up to the patient. Obviously the sooner the implant is replaced, the sooner the breast symmetry will occur.
If your surgeon used Mentor or Allergan breast implants over the past 4-5 years, the company will have a life-time warranty on the implant.  The company will also pay a certain amount towards the cost of the procedure, if the implant deflation occurred within ten years from date of surgery.  If your implant is older than 4-5 years, I recommend calling the company for exact details on your warranty.
Michael A. Jazayeri, M.D. is a board certified plastic surgeon with over 10 years of experience in both cosmetic and reconstructive surgery.  His office is located in Orange County, California.  To schedule a consultation, please call (714) 834-0101.