LIPOSUCTION UNDER LOCAL ANESTHESIA
LIPOSUCTION SURGERY UNDER LOCAL ANESTHESIA – CASE STUDY WITH VIDEO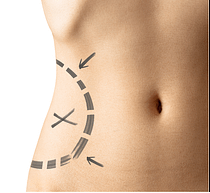 Over the past two years, I have performed hundreds of liposuction procedures under local anesthesia.
The obvious advantage is avoiding general anesthesia, leading to faster recovery. There is also less cost to the patient, as there are no anesthesia and surgery center fees.
There are many "techniques" currently being advertised to pre-treat the fat before liposuction; the most well known of all being the "laser" liposuction.  All of these techniques (if FDA approved) are safe if used by a trained surgeon.  However, there are no randomized, controlled studies showing these techniques will result in better outcome.  It is important to remember, the limiting factor for all liposuction procedures is the surgeon.  No matter what has been done to the fat pre-liposuction, it is the surgeon's skill which will determine the final result.  My recommendation is instead of focusing on what technique is used to pre-treat the fat, view before and after photos and meet the surgeon.  If you feel comfortable with him/her and like the results… go for it!
I hope you will find the below video informative.
Michael A. Jazayeri, M.D. is a board certified plastic surgeon with over 12 years of experience.  His office is located in Orange County, California.  To schedule a complimentary consultation, please call (714) 834-0101.