MOMMY MAKEOVER -WHAT IS ALL THE BUZZ ABOUT?
Mommy makeover seems to be the new catch phrase in plastic surgery. But what is it?
The essence of mommy makeover is to improve the appearance of the breast and abdomen. Since these two areas are the most affected after a pregnancy, the term mommy makeover was coined for this combination procedure.
Regarding the breast surgery portion, the options are breast augmentation, breast enhancement with or without a breast lift (mastopexy), breast lift alone, and breast reduction (in cases of very large, heavy breasts). During your complimentary consultation, I will recommend the best procedure(s) to address these issues. The abdominal portion entails an abdominoplasty, also known as tummy tuck, with or without liposuction of the flanks (love handles), or liposuction of the abdomen alone. An abdominoplasty is indicated if loose skin, stretch marks, and a "beer belly" appearance are present, due to weakness of the abdominal muscles. These procedures can usually be performed together, although the final determination depends on the anticipated amount of anesthesia time required. The recommendation by the American Society of Plastic Surgeons is to keep anesthesia time up to 6 hours for elective, out patient surgery. The advantage of performing both procedures together is avoidance of two recovery period, and the overall reduction in surgery room/anesthesia cost.
In my experience, mommy makeover surgery is one of the most rewarding procedures I perform. It is a pleasure to see the regained confidence and happiness in the face of my patients after this surgery. Needless to say, the smile on the face of the husband or significant other is always a plus! Please remember although the term mommy makeover is used, this surgery also applies to patients who have had significant weight loss on their own or after gastric bypass surgery (bariatric surgery). You do not have to be a mother to take advantage of these procedures!
If you are interested in a mommy makeover procedure, please feel free to contact my office and schedule a complimentary consultation. Our office number is (714) 834-0101.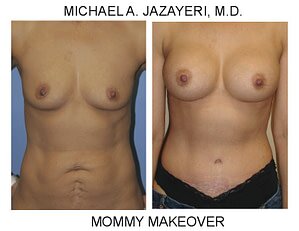 Dr. Jazayeri is a board certified plastic surgeon, with over 10 years of experience. Our office is centrally located in Orange County, in the city of Santa Ana. We provide plastic surgery services to the following cities: Aliso Viejo, Anaheim, Brea, Buena Park, Costa Mesa, Cypress, Dana Point, Fountain Valley, Fullerton, Garden Grove, Huntington Beach, Irvine, La Habra, La Habra Heights, La Palma, Laguna Beach, Laguna Hills, Laguna Niguel, Laguna Woods, Lake Forest, Los Alamitos, Mission Viejo, Newport Beach, Orange, Placentia, Rancho Santa Margarita, San Clemente, San Juan Capistrano, Santa Ana, Seal Beach, Stanton, Tustin, Villa Park Westminster and Yorba Linda.
If you like to schedule a complimentary consultation, please contact our office at (714) 834-0101