Multiple Facial Surgery Procedures – Case Study
COMBINATION FACIAL PROCEDURES: A POWERFUL METHOD OF FACIAL REJUVENATION
Combining of facial procedures, when indicated, can make a huge difference in a patient's facial appearance. A very powerful combination is rhinoplasty (nose surgery) and a chin augmentation in a patient with large nose and small chin.
In the patient shown below, the patient had upper and lower eyelid surgery first, followed by rhinoplasty and chin augmentation one month later. She is two months post surgery for her eyelids and one month post rhinoplasty and chin augmentation with implant. The nose will continue to improve for up to one year, but even at this stage, the improvement is noticeable. One can also see how the combination has rejuvenated the patient's face.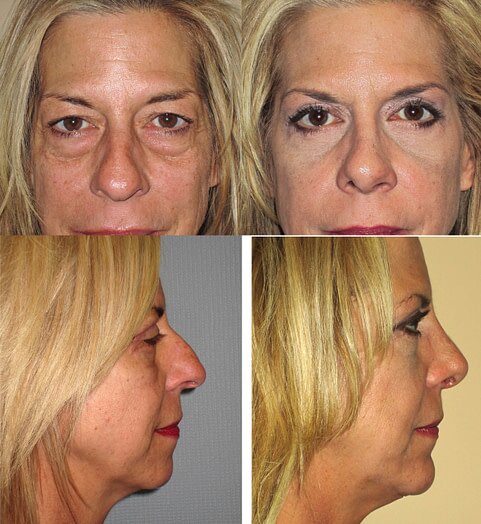 Michael A. Jazayeri, M.D. is a board certified plastic surgeon with over 13 years of experience. His office is located in Orange County, California. To schedule a complimentary consultation, please call (714) 834-0101.