Torn or Streched Earlobe Repair Surgery, Orange CountyTorn or Streched Earlobe Repair Surgery
Torn or Streched Earlobe Repair Surgery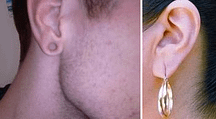 Torn or streched ear lobes can sometimes be a frustrating problem as the patient cannot wear any earrings.  With ear lobe stretching practices increasing, many patients eventually become embarrassed by the shape of their ear lobes and want them repaired.
Unfortunately, I have seen many ear lobe repairs by non plastic surgeons fail.  Although technically not a very difficult procedure, the success of the repair requires certain steps to be taken in order to ensure proper healing.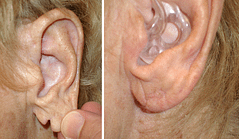 If the ear lobe has been stretched, excess ear lobe must be excised and the new ear lobe "fashioned" by approximating the remaining parts.
This procedure can be performed under local anesthesia in the office and requires minimal recovery time.
Michael A. Jazayeri, M.D. is a board certified plastic surgeon with over 12 years of experience.  His office is located in Orange County, California.  To schedule a complimentary consultation, please call (714) 834-0101.